About me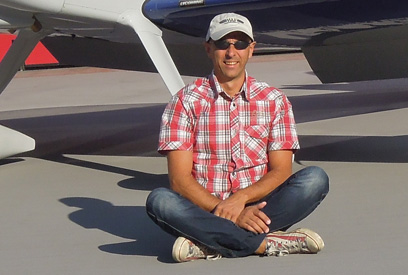 My name is Luca Perazzolli and I was born in 1964. My home base airport is Trento in Northern Italy - Icao code LIDT; my daily job is IT Consultant in my one man company. I'm an EAA member, CAP (Club Aviazione Popolare) and AIPM (Italian Mountain Pilot Association) member.
I started flying in 1988, earning my Private certificate PPL(A) in 1989 with TEA (English Radiotelephony) endorsement. My flying school was the Aero Club Trento and CFI Giuseppe 'Pippo' Dellai was my instructor.
In a few years I improved my skills adding Glider Towing, Taildragger, Mountain Flying Bush rating for snowy and icing surfaces and Aerobatic with CFI Sergio Dallan (Aerobatic European Champion).
During 1992 I had the opportunity to develop a fligh testing activity for a Russian LSA (May 89) imported by an Italian Company.
In 1993 I took my LSA Flight Instructor Rating.
An FAA PPL Pilot Certficate was obtained in 2010.
In 1988 the Italian magazine 'Volare' issued an article about the Vans' Aircraft RV-3. I searched for the constructor's address and asked for a fax about the available kits. Such a project was unthinkable for me at the time, but everything was clearly impressed on my mind. Some years later, in 1997, a trip to the United States took me to Sun&Fun in Florida, where I had the opportunity to fly an RV-4 (N7TG) at Pompano Airport. At Sun&Fun I spoke with Dick VanGrunsven (Van's CEO). My first thought was for an RV-4 but when I was ready to order they (Van's) discountinued the QB option. So I choosed the 8. I loved the design, it's a sport aircraft with acro capability, range, speed, short field performance and she has a terrific P-51D style canopy. I started building my Van's RV-8 from a QuickBuild kit in 2005 and after about five years and two-thousand hours of work I did the first test flight in August 9, 2010.
In Italy we have our version of EAA named Club Aviazione Popolare : during 2012 Annual Meeting I proudly won, with my RV-8, the Italian Best Homebuild Prize Trophy named 'Gianfranco Rotondi' (an University Professor who was a pioneer in the Experimental aircraft italian world).
As italian Dar Inspector (IST) I was involved in different Experimental Aircraft building projects : RV-8, RV-4, RV-6, RV-7, RV-14 and two complete restorations of a 1942 Piper L4-H and a PT-17 Stearman.
With Club Aviazione Popolare I give yearly lesson in courses for Metal, Electrical System and Experimental Aircraft Flying Test procedure.
From december, 2015 we have our EAA Chapter #1581 where I hold President position.
I'm an EAA Technical Counselor and EAA Flight Advisor, Young Eagle Pilot and Eagle Flight mentor Pilot.
I proudly wrote some articles for Kitplanes magazine (06/2014-05/2016).
This is my flying experience, earned in more than one thousand flying hours as a PIC :
Glider towing (from 1990)
English radiotelephony (from 1990)
Mountain Bush Flying for snowy/icy surfaces (from 1992)
Aerobatic (from 1991)
Morane MS-880
Cessna 150/152
Cessna 172-160/180
Cessna 210 FRJ
Diamond DA20
Cessna 172 Garmin1000
Robin DR-400/180
Maule M7-235C
Piper J-3
Piper PA-18
Aviat Husky A1
CAP-10B/C
Socata Tampico TB-9
Socata Trinidad TB-20 (complex)
Stinson L-5
Cessna L-19
Extra 300
Piper PA-28
YAK-52
Falco FL-8
Van's RV-6
Van's RV-8
Van's RV-7
Van's RV-4
---