The Van's RV-8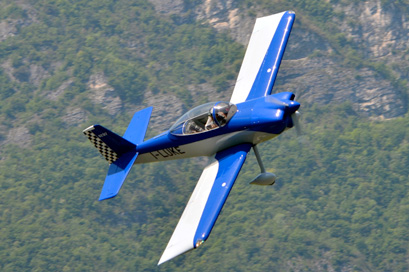 The RV-8 went on the market in 1996 and complete kits were available by the end of 1998. In short order, it was followed by the kit for the tricycle gear RV-8A.

The RV-8 retains the fighter-like feel of centerline seating, but the wider fuselage contains cockpits that accommodate large people in comfort. Two baggage compartments, one forward and one aft, keep even large amounts of luggage well within the weight and balance envelope. Pilots up to 6'7" fit in the front. A Tall Pilot option is available. (It was used by one successful builder who describes himself as 6' 10", although we think he might be taller). Passengers almost as big find the rear seat fits them, too. Factory demo pilots have flown demo rides with passengers up to 6'9" and 260 lbs in the back.

The large 42 gallon fuel capacity and efficient airframe provide long range and high cruise speeds, so long distances can be covered easily.

The speed and the excellent climb rate provide options for dealing with weather and terrain that simply aren't available to most pilots. Handling, on the ground or in the air, is typical RV: exciting and responsive, but never "twitchy" or unpredictable.

The sliding canopy is built around a sturdy steel roll bar and fixed windshield. It must remain closed in flight, but the standard fresh air ducts provide plenty of fresh air to both seats. The RV-8/8A is designed to be flown from the front seat, although a rear stick is provided and a rear throttle and rudder pedals are optional.

Like all RVs, the RV-8 climbs well, lands slow, and goes fast. Unlike previous designs, the RV-8 was designed to accept the 200 horsepower IO-360 Lycoming. The prototype with this engine demonstrated really remarkable performance. With a single occupant, it would take off in 250' and climb out at 2600 fpm -- performance that had controllers asking "what kind of airplane is that?!" However, the fact that the RV-8 can accept a large engine doesn't mean that it needs it. The traditional engine options – 150-180 hp Lycomings – have been retained (probably the majority of flying RV-8 are powered by a 180 hp engine) and with these lighter engines, performance is still exciting – and the handling even better.

"The almost perfect control balance and harmony and the excellent visibility make aerobatics a delight. At the aerobatic gross weight of 1600 lbs., the RV-8/8A complies with the +6/-3G standards of the FAA's Aerobatic Category and can still carry two people, making it possible for a new pilot to get aerobatic instruction before he or she starts rolling and looping."
Van's RV-8 I-LUKE Aircraft Equipment

Starter : Skytech 149-12LS
Alternator : Plane&Power AL12-E160/B
Battery : Odyssey PC680 firewall mount
Fuel Backup Pump : Facet 40108
Compass : Airpath Lighted TSO'd C2300-L4
Air Speed Indicator : Van's RV-8 UMA16310261D
EFIS : Dynon D-10A w/backup battery unit, remote compass unit and OAT sensor
Altimeter : United Instruments TSO'd 5934PM-3
Vertical Speed Indicator : UMA T8-210-20 2¼
Engine Monitor : Electronic Instruments UBG-16 (4 EGT - 4 CHT - MAP - Carb.Temp.)
Clock : Flight Data System GT-50
Tachometer : Van's Series IE VTACH3500
Fuel Pressure : Van's Series IE VFP15
Oil Temperature : Van's Series IE VOT250
Oil Pressure : Van's Series IE VOP100
Radio COM : Garmin GTR-225A
Transponder : XPDR Garmin GTX-328
Intercom : PS Engeneering PM1000II
GPS : Garmin GPS695
Hour meter : Dynatime MIL-M-7793
Fuel Quantity : Van's Series IE VFL15
Fuel selector : Andair FS20x7
Ammeter : Van's Series IE VAM40
Roll electric trim / Aileron electric trim : Ray Allen servo T3-12A
Pilot stick : Infinity Aerospace with Relay Deck for flaps & trims
Harness and safety belts : Hooker Harness Fd HH-SP5R
Estinguisher : H3E Aviation Halon RT-A600
Flap motor : Pittman ES 85615-157-1
Seat : Classic Aero Design Sportman Seats RV8-PKG11 F/R
Nav Lights : Whelen (righ and left wing, rudder)
Strobo Lights : Whelen (right and left wing, rudder)
Landing lights : LED's Van's Aircraft
ELT : Artex ME406
Smoke System : SA-100H from Smoking Airplanes LLC.