Van's RV-8 * I-LUKE * ENGINE and PROPELLER
Engine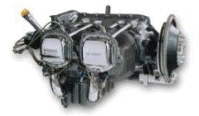 I-LUKE has a Lycoming 360 cubic inch series. It's an YO-360-A1A with 180 Hp - carburetor.
Rugged reliability meets silky smooth performance.
The Lycoming O-360 series engines are four-cylinder, direct-drive, horizontally opposed, air-cooled models. The cylinders are of conventional air-cooled construction with heads made from an aluminum-alloy casting and a fully machined combustion chamber. Rocker-shaft bearing supports are cast integral with the head, along with housings to form the rocker boxes. The cylinder barrels have deep integral cooling fins, and the inside of the barrels are ground and honed to a specified finish.
FORGED-STEEL CONNECTING RODS
NITRIDE-HARDENED STEEL ALLOY CYLINDER BARRELS
FORGED-STEEL CRANKSHAFTS
CHROMIUM-MODIFIED NI-RESIST IRON EXHAUST-VALVE GUIDES
FORGED-STEEL CAMSHAFTS
LIGHTWEIGHT STARTER
FIXED PITCH OR CONSTANT SPEED PROPELLER APPLICATION
"All engines produced by Lycoming are manufactured under AS9100/ISO9002 quality systems. Our OEM Non-Certified engines are produced on our certified assembly line in precisely the same manner as our certified engines with the following exceptions. Fuel injected engines are fitted with experimental fuel systems produced by Airflow Performance or Precision Airmotive, typically the latter. (Carbureted versions are built using the standard certified carburetor.) Other than that, the only remaining differences are the dataplate and paperwork." Jon A. Delamarter - Lycoming Engines
Propeller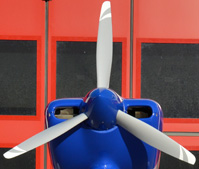 Three blades Catto propeller was my choice. The data sheet is :
3-Bladed Wood/Glass Composite.
Propeller for RV
66" Diameter x 76" Pitch
0-360 180HP@2700RPM
Top Speed at Target RPM- 215mph@2800rpm
4.375" Finished Propeller
7" Diameter Prop Flange
SAE-2 Pattern, 1/2" Bolts and 3/4" Lugs
Color Grey with White Tips Crescent